We will have several products with the Finley's Fighters logo for sale, plus custom braille shirts. All profit will go to the RDH12 Fund For Sight that we established. This money will be used for sight saving research for Finley and other children with the RDH12 mutation. We are so excited about our new Fund. We are going to make every effort to save Finley's sight, but we need your help!

Right now we have many products for sale. The wrist bands - which are on the main page, Finley's Fighter's shirts (see below), and custom braille shirts.

The wrist bands are $3.00 for Adult, $2.00 for Youth, $13.00 for 5, and $25.00 for 10. Order yours off the website today. Or off our Mixed Nuts blog.


BUY YOUR FINLEY'S FIGHTERS BRACELET HERE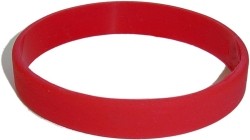 Will read "Finley's Fighters - Knocking Out Blindness"
To get your wristbands just email us at FinleyFighters@finleyfighters.com and let us know quantity and size and we will get them to you!

Our Finley's Fighters Shirts can be either short sleeve or long sleeve - your choice. Sizes and choices are below. I will tell you - for those who know me, the adult small SHORT SLEEVE is Small - it fits me, but....like a glove. :) My daughter - Arlington - is 7 years old - we got her the 6-8 size and it just fits her. So the shorty sleeve shirts seem to run a bit small. Our parents - Phyllis and Ted Kovall and Sally and Ben Pletcher - have a few different sizes at their houses, so you can check them out up close if you want. Connecticut people - we have child sizes 6-8 and Adult Small and Adult XL at our house if you would like to see the sizes. Give us a call and come on over!

Long sleeve are $12 and Short Sleeve are $9. So take a look and buy a shirt today! It will help us spread the word! And most of you will be joining us for future fundraising events, so get a shirt to wear to our event!

I can custom make you a shirt in braille. I use Precosia rhinestones for girl/women shirts, and fabric paint for boy/men shirts. I can also do hats, etc if you want! Lead free stones. I can make sizes newborn all the way up to XXL. You can chose just about any color! To the right you will see a slide show of some that I have done for people so far, so you can get an idea. I have black and silver stones at this time. You can have your shirt say anything you want!!! So when you pick - please make sure at the time of order, you let me know what color shirt you want, and what you want it to say. The cost of the adult shirts is $15 (either long or short sleeve) and kids is $10 (long or short sleeve). Or you can provide your own shirt/item and I will braille it for you for $5. If I need to ship it to you, we will have to add shipping. Raise braille awareness!

We can also make just about any product you would like with the Finley's Fighters Logo. Examples:

Car Magnets
Keychains
Travel Mugs
Water bottles
Coffee mugs
Mouse pads
Hats


We have had many of these products made, and they came out great! You name it - we can make it! Send us an email and we will send you a price. Again - all profits go to the foundation, so we need all the help we can get!
To order your Finley's Fighters shirt, mug, or custom Braille shirt email us at FinleyFighters@finleyfighters.com.
Finley's Fighters T-Shirts
Front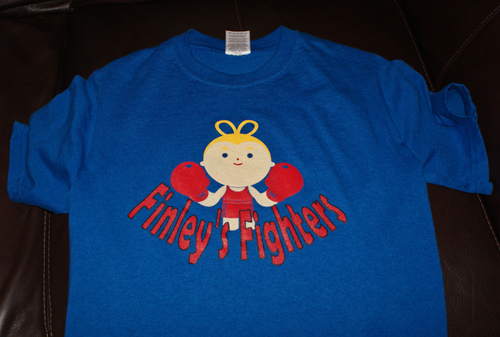 Back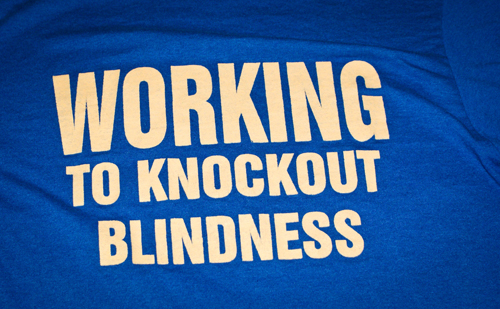 Personalized Brailled Shirts
Mugs and Cups